Hey Nerds!
The Justice League and all of their respective members have fought countless threats, some more powerful than others but who are the most powerful beings in all the DC Universes? Who reign supreme over the Man of Steel? The Amazonian Princess? The King of Atlantis? Well that's what we're here to tell you, Nerds.
Stick around and find out the Top 10 Most Powerful DC Characters.
10. Anti-Monitor
Anti-Monitorwas created in 1985 by Marv Wolfman and George Pérez, he first appeared in Crisis on Infinite Earths #2.
Coming from the Anti-Matter Universe Anti-Monitor is just that, The Monitor's counterpart. He is the one responsible for the original Crisis on Infinite Earths. He nearly succeeded in his goal in destroying the positive matter Multiverse, killing untold billions in the process.
Anti-Monitor is definitely among the Top 10 most powerful beings in DC having caused more deaths than any other villain the DC universe has encountered.
He was the sole Guardian of The Sinestro Corps and once, against his will, was the source of The Black Lantern Corps Central Power Battery.
Having immense strength and durability. He was  easily able to shrug off blows from Superman and stalemate the Spectre. He was also able to defeat hordes upon hordes of superheroes.
With the ability to alter reality, fire bolts of energy, time travel, and absorb universes he became even more powerful than his counterpart, the Monitor.
He can create shadow versions of himself and also absorb these shadow demons to recharge himself. A truly terrifying being and one that no hero should or can underestimate.
9. Krona
A renegade and former member of the Guardians of the Universe, Krona is also an enemy of the Green Lantern. He was created in 1965 by John Broome and Gil Kane for the Green Lantern (Vol. 2) #40.
Krona has a very simple goal and obsession for the most part, as a scientist, Krona is obsessed with finding the origins of the universe. This obsession and his search consequently led to the birth of evil itself throughout the universe, and even more inadvertently, the creation of the multiverse.
Krona has even been revealed as the main antagonist of the "Brightest Day" story arc.
Krona beats out Anti-Monitor in this list for a number of other reasons though.
As a Maltusian, Krona is virtually immortal and invulnerable and possesses a vast amount psionic powers. His full list of powers thus far include:
Blast Powers

Divine Powers

Energy Manipulation

Immortality

Intellect

Invulnerability

Stamina

Super Strength

Telekinesis and everyone's favorite,

Telepathy
8. Mr. Mxyzptlk
Up next on the list everyone's not-so-favorite 5th-Dimensional Imp. Despite some of his past appearances in comics, shows, and games Mr. Mxyzptlk isn't one to take lightly. He is actually one of the most powerful beings in the DC universes.
Mr. Mxyzptlk was created in 1944 for Superman #30. He was created by Jerry Siegel and Joe Shuster.
With the power to do almost anything he can imagine. Mr. Mxyzptlk is almost like Supermans personal Joker. He could transform Superman into ashes or erase him from existence, but where's the fun in that?
Mr. Mxyzptlk is not actually evil though, he does no long-term damage. He just seeks to pester and prove he's smarter than the Man of Steel. Though as we've seen that's not easily accomplished.
He cannot be made to return to his home dimension until he's tricked into saying his own name backwards "Kltpzyxm." which is surprisingly easy, especially if you watched the old Superman cartoons.
Superman isn't his only foe however, Mr. Mxyzptlk's counterpart and rival is Bat-Mite, an imp who shares a similar obsession with none other than the big bad Bats himself, Batman. Talk about the 5th Dimension's finest!
Despite all of his powers however Mr. Mxyzptlk acts as more of a nuisance to the Man of Steel than a threat, constantly challenging and otherwise bothering Superman in his daily life. Should things change however… Well, Supes better have a plan. 
7. The Endless
Created by Neil Gaimen in 1989, The Endless made their first appearance in Sandman (Volume 2) #1.
The Endless are seven siblings that embody seven different fundamental forces of existence itself: Destiny, Death, Dream 1 , Destruction, Desire, Despair 1, Delirium, Dream 2, and Despair 2.  Each of them are ageless, immortal and nigh-omnipotent.
Their appearances stay relatively the same but they are able to change depending on someones elses' expectations.
The Endless run their own domains according to their name and function. Dream 1 and 2 observe and regulate the world of dreams, imagination, and inspiration. Death leads the souls of the dead from the living, and so on.
Each of The Endless follow specific rules and guidelines on how each should live their lives. One of these rules being that should you spill the blood of the family, harm shall befall you as well. Another rule is not to fall in love with mortals, for nothing good can come out of such a union. Both of these rules have been shown in their comics and reflect the reasoning for them in the first place.
The origin and reasoning for The Endless has never been revealed although there has been much speculation behind them.  They are said to be the very children of Time and Night but  whether this is truth or an abstract concept is still in the air.
As they are the very fundamental forces of existence itself it's only natural that that are on the list. As we continue on, things only get deeper.
6. The Decreator
The Decreator is an entity of pure annihilation, unable to be reasoned or even stopped. The Decreator first appeared in Doom Patrol Vol 2 #32 in 1990. He was created by Grant Morrison and Richard Case.
Summoned by the Cult of the Unwritten Book, Decreator was summoned to bring about the end and unmake the world.
Members of Doom Patrol succeeded in slowing him down to such point that no one would notice the slow disappearance of the universe by using similar vibration equal to his powers. The Decreator has no personality, no morals and holds no ties to good or evil, simply decreating things not out of hate or pleasure, but because it is in its nature.
5. Eclipso
Created in 1963 by Bob Haney and Lee Elias, Eclipso first appeared in House of Secrets #61.
Eclipso was the first incarnation of the Spirit of Wrath who went rogue. He was sealed inside the Heart of Darkness. Those that come in contact with it He can posses, this most famously the case with Bruce Gordon.
As a once-divine being, Eclipso possesses vast magical capabilities that can be wielded to a variety of effects, including flight, size manipulation, and weather manipulation. He can  even produce energy blasts from his hands and his left eye.
He is super strong, fast, and like many on this list, immortal making him all the more dangerous.
In the New 52 version of the character, written by Christy Marx,  Eclipso originates from Nilaa, and was once the Lord of House Onyx.
4. Spectre
Created by  Jerry Siegel and Bernard Baily, The Spectre first appeared in More Fun Comics #52 in 1940.
Another divine being, The Spectre is of near-unlimited might whose mission is to unleash the Wrath of God upon evil men. However, he is always bound to the soul of a deceased human.
His very existence is in response to the failure of Eclipso, the spirit of God's wrath that turned completely malevolent and evil. Unlike Eclipso, Spectre seems to carry his duty with zeal. He uses his divine powers to punish the truly wicked in creative and ironic ways.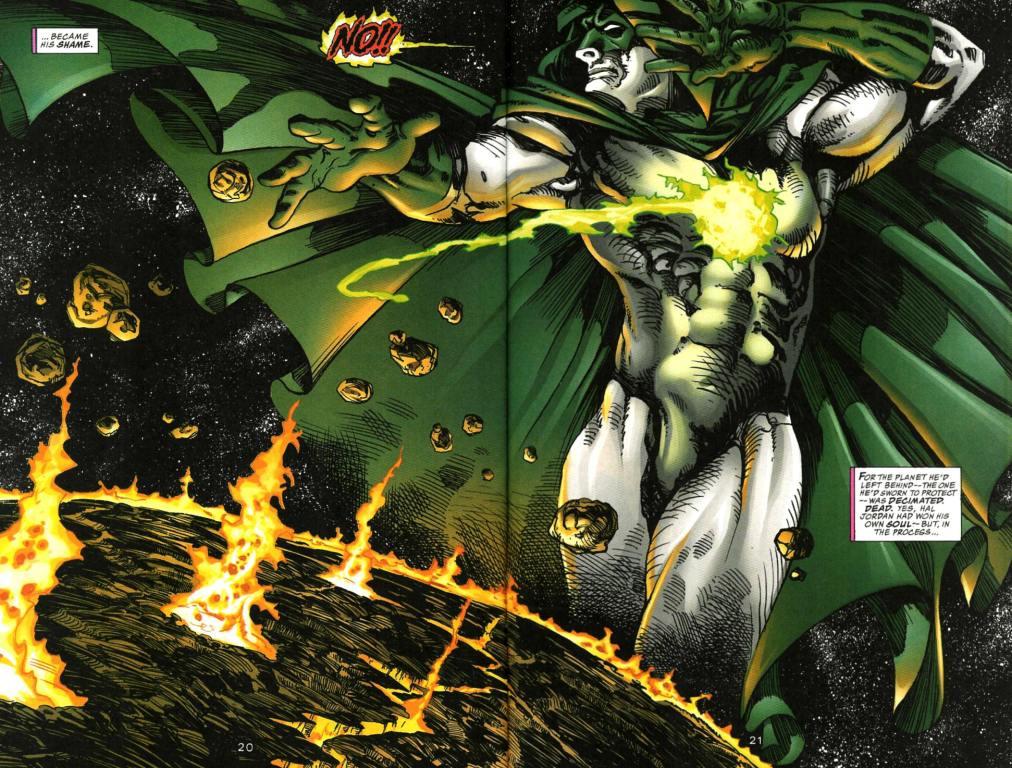 Hal Jordan, a fallen Green Lantern, even took his place during Day of Judgment as a way of seeking redemption. Currently the mantle is held within Crispus Allen since the end of Day of Vengeance during Infinite Crisis.
3. Michael Demiurgos
Created by Neil Gaimen and John Bolton, Michael Demiurgos made his first appearence in the 1990 edition of Books of Magic #1. 
Brother to Lucifer Morningstar and son to Yahweh, Michael Demiurgos is, along with his brother, is one of two fictionally accredited with the creation of the DC Multiverse. He is often described as the second mightiest of all the beings god created.
Michael possesses The Demiurgic power. This power is essentially the building block for everything. Even concepts such as magic, cosmic and primordial power, time, dreams, emotions, all fall under one big category that is the demiurgic power, and because Michael has infinite amounts of it he has the #3 spot on this list.

During Lucifer's rebellion in Heaven, Michael Demiurgos has led God's forces against his brother. He was felled in battle by Sandalphon when he exposed his back. He was then kept in captivity by "Lucifer's follower" From that point on. The followers grand scheme was to use Michael's genetic material to create an army of angels with the Demiurge inside them.
All but one of these children were failures, Elaine Belloc. This was because not only did the child has the Demiurge inside but they were female. Which meant she could sexually create even more servants for him.
Thankfully before Sandalphon could put these plans to fruition, Lucifer himself came to collect both Elaine and Michael.
At this point in time it was revealed that Michael was dying, and should he die, the power within him would destroy the universe.
Lucifer, upon learning this took Michael to his own realm where his brother would be safe to die. However thereafter, Michael was reborn, healthy and full of life. The two brothers would part ways as they could never agree.
Michael returned to Heaven where he sought out Yahweh's counseling.
Michael could not approve of his fathers counselling and as such, was exiled from Heaven to look for his daughter.
2. Lucifer MorningStar
Once the most powerful and most beautiful of all angels in existence and one of two fictionally accredited with the creation of the DC Multiverse, Lucifer was sent by The Presence to rule over Hell after he rebelled.
Lucifer is the son of Yahweh and brother to Michael Demiurgos. He possesses a multitude of abilities similar to that of his brother but he has his own "flares" as well. His 3 signature powers are The Lightbringer flames, these flames can destroy almost anything and are unique hence the name;  his nigh-omniscience, His nigh omniscience allows him to be 10 steps ahead of all others and know almost everything; and The Will of God, his will can manipulate reality on any scale he so wishes. He also has various other powers like divine magic, soul creation, etc.
After governing Hell for more than 10 billion years, he left to look for a way out of predestination, to escape Yahweh's great Plan.
1. The Presence/Yahweh
The single most powerful being in all of DC is The Presence, AKA, Yahweh and The God of the Covenant. He is the creator and the God of the DC universe, though he's more often spoken of than actually seen.
The few times he has been seen he has taken on a new form, each form appearing at key points in the DC timeline. These forms include:
The Voice – In More Fun in Comics issue #52 he appeared in the form of The Voice which is a discarnate Voice of God.

The Hand – First seen in Green Lantern vol. 2, issue #40 whereas an image of a hand appeared out of a random nebula. DC Comics has referred to it as a the start of creation of DC Multiverse or better known as the Big Bang.

The Source – In Jack Kirby's Fourth World comics, The Source was depicted as a universal spirit. It is mainly associated with the New Gods and thusly believed to be responsible for their creation and empowering them Divine powers.

The Presence – This form takes the Judeo-Christian Deity which is said to be the one who created it all.

An Aging Gentleman – When it's appeared in person, the Presence has appeared as an aging gentleman wearing a bowler hat, dark suit, umbrella and with a grey mustache.

A Scottish Terrier of different colors – because he thought it was funny.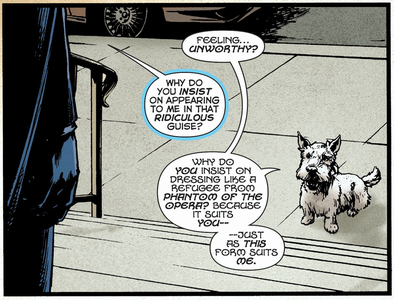 Being the ultimate god of the DC Universe The Presence is Omnipotent, Omnipresent, Omniscience. He has no limits and no weakness, thus giving him the #1 spot on this list. 
That wraps up this article, make sure to like and subscribe more nerdy content in the future and tell us, what are your thoughts on this list? Who do you think deserves to be here? 
Stay nerdy!